Hello there!!! Welcome to the final destination at a Dollilicious "Hop through the Dollhouse"!
If you've just finished being SO glam you can sweat glitter from
Nicole's
blog, then you're right on track. If you've just bumped into the hop by accident, head on over to the
Dollhouse
and start at the beginning... you'll come back here eventually! :)
This weekend we are inviting ya'll to get to know the Dollies just a little bit better... Especially since we've been blessed with the BEST Design Team members that have ever graced a keyboard... or scrap page! :)
By now you should have met two of the three founding members of Design Dollies, and you should DEFINITELY have gotten to see some of the sheer talent displayed by our amazing design team! So now, a little bit about me...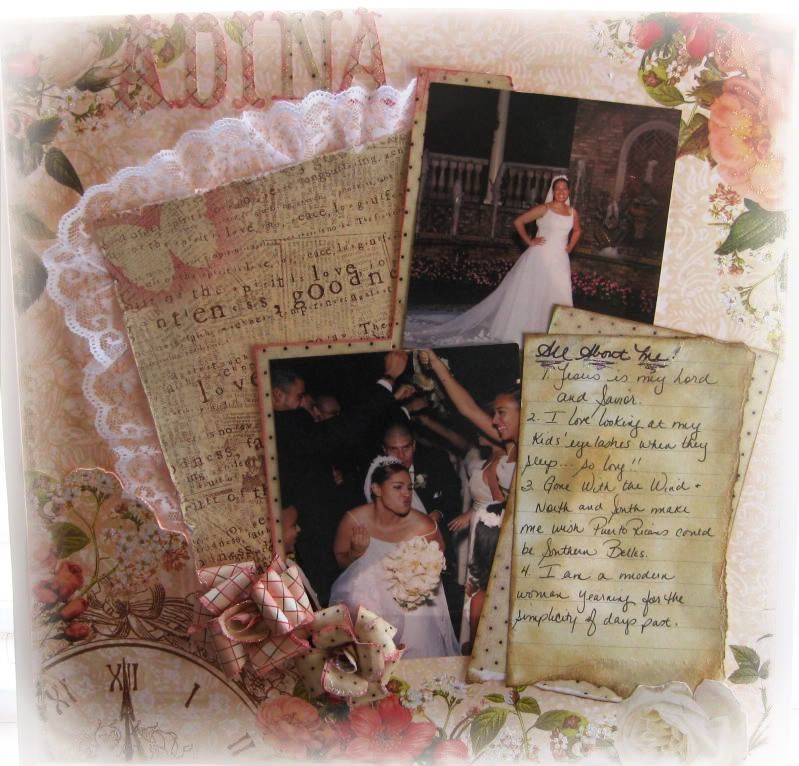 Name: Adina Medina (definitely God's sense of humor when picking my husband!)
Stats: Married 8 years, with two beautiful children (Melanie, 6 and Elijah, 2 months)
Hobbies: SCRAPPING (duh) and more recently card making!
Misc: I have a love for all things vintage and girly. The more glitter and frill, the more "me." I also have a crazy shopping addiction that is NOT helped by my position on the Design Team for
Scrap-a-Doodle Doo
!

In honor of this Dollilicious Blog hop, I'd like to invite you to take a little quizzie poo... :) If you get all the answers right, you'll be entered for a chance to win THIS prize pack (Cricut NOT included lol!):
Ok, so here we go... Check out the Dollie Banner at the top of this post and use the NUMBERS above each dollie as your response to the following questions (for example, if I were to ask "Which Dollie MOST looks like Leah L'Orange, you'd answer "Dollie #1"):
1. Which Dollie wishes Puerto Ricans could be Southern Belles? (hint, look CAREFULLY at this Dollie's layout, and it's there in her journaling!)

2. Which Dollie launched her own ODD Digi Stamping company (with AMAZING images, may I say!)
3. Which Dollie hails from Sweden and LOVES Scrapping Dolls... (Ironic, isn't it??)
4. Which Dollie had to sensor the drink title for her favorite alcoholic beverage (hint, it consists of 2 Parts Butterscotch Schnapps and 1 part Bailey's Irish Cream)?
5. Which Dollie lives in the same state as I do?
6. Which part-time Californian part-time Norwegian Dollie just started scrapping again this past April?
7. Which Dollie is a Philipina Pediatrician?
8. Which Australian Dollie is in SERIOUS need of a good album since she NEVER puts layouts into one...
9. Which REPEAT DT Dollie is a retired Biochemist turned stay at home mom?

REMEMBER, I don't necessarily want the Dollie's real name... I want you to use the numbering system at the top of the post to show me which DOLL representing the Scrapper is the one being described...

And FINALLY (geez, Adina, do you REALLY need us to work??) I'd like YOU to play along (as always!!) with the Dollies... Link up YOUR own "About Me" creation via Mr. Linky below, and I'll put your name into the pot for THIS prize:
(That's right, I've got TWO stashes ready for ya!!)
Your "About ME" page should include some journaling with at least five things that are uniquely "you" and should be uploaded before 10 PM EST on Sunday, July 25th. Winners for both candies will be announced at the
Design Dollies
blog on Tuesday, July 27th. If you have ANY questions, feel free to
email
me!! :)