Even though I've been crazy hectic busy and going crazy hectic nuts here... Whatever scrap time I DO have is usually spent catching up with projects for the Dollies (of which I have severely fallen behind, and I feel horribly about that!) or for Scrap A Doodle Doo (of which I again, have severely fallen behind on...)... Gee, the general consensus is that I'm way behind on stuff! :) Including teacher projects for Melanie's teacher... she's getting married in July so I have a canvas all gesso'ed up for her... and that's about as far as I've gotten on the canvas for over two weeks. I have a picture in my mind's eye on what it will look like... but right now it's a blank slate lol.
HOWEVER, I have a card, lol! :)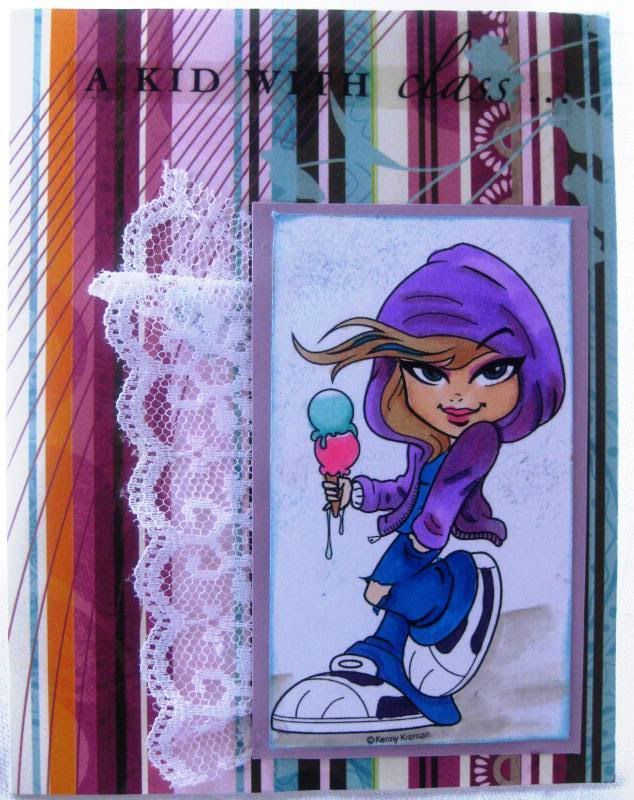 And the ONLY reason I was able to finish this one was cause I had some scraps laying around at work and I had no classes until 11 AM... and the rest is history. :) (Which works for the "use your scraps" challenge at
Card Makin Mamas
!) AND I've been kicking myself for not using enough of my digis these days... I have TONS of the
Some Odd Girl
images and a handful of the Kenny K ones, and they do NOT get enough love... :( BUT this one finally got some action, which was fun... I am still working on my copic collection, but this one was actually all colored in using my itty bitty copic stash, so that too was fun... We are actually starting a Copics Club at
Scrap A Doodle Doo
in June, so that SHOULD help my stash significantly! :)
Ok ya'll, thanks for looking, and have a wonderful week!